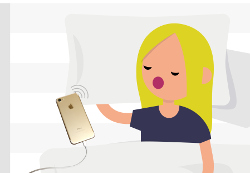 Analyzing the value of the acceleration sensor in the iPhone during sleeping, the alarm sounds at the optimum timing that it approached the set alarm time and determined that sleep is shallow (= suitable for waking up).
With this, the comfort of awakening everyday rises steadily!
Of course, not only will you wake me up at comfortable timing, but also record a snapshot graph display and snoring. It is quite obvious what condition it was while sleeping.
And more characteristic,
You can tell the time when you start the alarm, you can synchronize with an external calendar service such as Google Calendar etc. You can wake up the day schedule of the iPhone standard calendar and read it by voice at the same time,
Just like a secretary, support your day's start with your voice!
Because it is an application to use everyday, operability is also outstanding with a simple & easy-to-use screen sticking to energetic waking up.
Please make use so that you can start better than usual morning.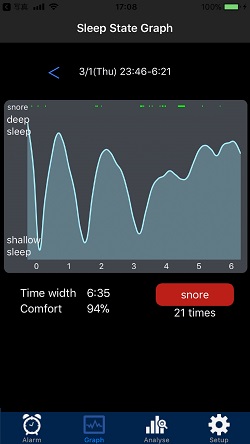 <Main functions / features>
Alarm sounds when the sleep is shallow
snore and sleep sound recording function
Speak iPhone standard calendar by voice after alarm
Speech time on alarm start
Sleep state graph display, Sleep degree indication
Pause the alarm by moving the iPhone
Choose wake-up sound from iPhone
Vibration and light flashing can be specified when alarming
Background operation: Continue to move in the background even if you use other applications after setting the alarm
* All available for free
* Support MAIL:
app-support@media-plan.co.jp