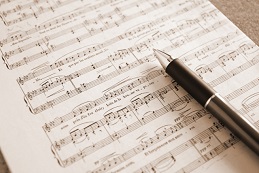 There are a lot of musicians carrying around a large amount of paper score.
Especially for there who often travel to defferent places and play music, they may experience that their luggage can become bulky and it's hard to keep your paper music score organized.
DiGi Score captures and imports music scores on your iPad / iPhone and manages them by naming and tagging so that you can easily browse through your music with just your iPad / iPhone when you need them.
Of course, not only doing acquisition management, you can use it on the music stand just like traditional paper music score. (Screen does not get dark while displaying music)
In addition, you can also write in the score, so later you can mark the color of the jump mark etc. and write in the code.
Also, the score imported into the application can be shared among band members, printed on paper via Air Print.
This way, You can conviniently print copies for distribution to surraunding members.
Dramatically eliminate the time and effort of managing the music scores of all music genres.
Please take full advantage of this App!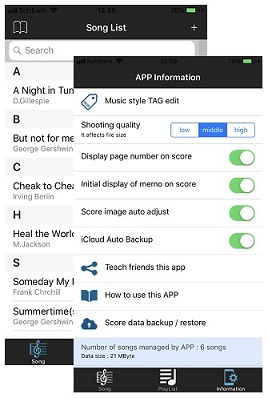 <Main functions / features>
Import of score (Camera, Photos, Cloud service such as Dropbox)
Export score data(PNG, JPG, PDF) from external APP (Dropbox, LINE, iCloud etc.) to DiGiScore
(iPad only) 2-page display mode when the screen is holizontal
PlayList function (sort order can be rearranged)
Genre tagging function
Delete and replace music notes for each page
Score image rotation, image quality adjustment, cropping (trimming)
Writable on the score
Switching pages with multi-page music with left and right flicks
Switch songs by up and down flicks
Expand / contract display with two fingers (pinch in / out)
Easily change screen brightness by holding your finger on the screen
Data backup / restoration to iCloud Drive
File sharing (by social media, saving images, etc.)
Printable (Air Print enabled printer)
Support for page switching by Bluetooth connection foot pedal (not included)
◆About in-app purchases
· All functions are available free of charge.
· Up to 20 songs can be managed free of charge.
· If you use it with unlimited number of songs please use in-app billing.
· Payment will be charged to your iTunes account.
* Support MAIL:
app-support@media-plan.co.jp